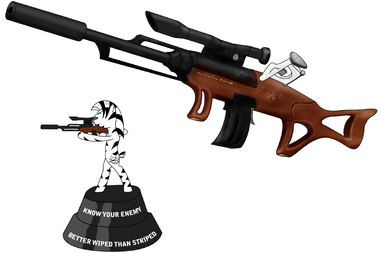 The Zebra Assault Carbine, more commonly known as the Zebra Rifle was a pre-war weapon used by the Zebra armies. The Zebra rifle is designed to fire in three shot bursts, making ammo conservation difficult, as there is no single-shot setting. The Zebra Rifle also has the effect of igniting its targets, burning them alive. It was particularly infamous among the ranks of pre-war Steel Rangers for incinerating them inside their Power Armor. Currently Littlepip is the only canon owner of such a weapon, although it's likely the rifle is more commonly found in the zebra homelands.
Zebra Rifles in Side Stories
Edit
In Rangers of Wintertrot, Crosshair uses a Zebra Rifle.
The Whitecoats from Guise of Chaos have a stockpile of these weapons.
In False Guilt, Sharpshot owns a unique red colored variant of the weapon named Flash Fire, which not only sets enemies on fire but explodes bullets on impact. This effect is demenstrated on the feral dragon in Chapter 7.
Ad blocker interference detected!
Wikia is a free-to-use site that makes money from advertising. We have a modified experience for viewers using ad blockers

Wikia is not accessible if you've made further modifications. Remove the custom ad blocker rule(s) and the page will load as expected.