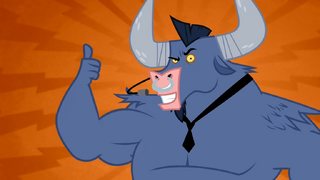 The Minotaurs are a race of bipedal creatures that resemble a cross between a human and a bull. Minotaurs are notably taller than many other intelligent species.
Before the War
Edit
Not much is known about minotaurs or their involvement with Equestria before the war. One notable minotaur, Iron Will, made a name for himself as a travelling self-help, confidence trainer. Iron Will notably arrived in Ponyville where he set up a stage and had goats assisting him as technical staff and for his on-stage demonstrations. Iron Will's self-help program backfired horribly with Fluttershy who became too mean spirited and cruel.
Iron Will came to collect money for helping Fluttershy, but he was turned away by Fluttershy who showed renewed confidence in herself and refused Iron Will's bill, claiming she was dissatisfied with his services.
In Other Stories
Edit
Major Appearances
Edit
History of Minotaur in Heroes
Warning! The following information applies only to its associated side story, Heroes, and is thus considered non-canon in the Fallout: Equestria universe.
Before the War
The Minotaurs were a race of nomadic wanderers that roamed the lands close to the Zebra Homeland and the Caledonian border. The were known to attack settlements they encountered and roamed together in great numbers.
During the War
When the Equestrian - Zebra war broke out, the Minotaurs were close allies with the Zebra Empire. The Minotaurs, rather than fight Equestria directly, fought Equestria's neighbouring country and ally, Caledonia. The Minotaurs like the Caledonian's, received megaspell technology from their allies, both sides turning megaspells technology against one another when the war finally ended.
Modern Day
The Minotaur continue to roam their homeland, albeit in greatly reduced numbers. They maintain some form of organised government and are lead by a king. Tensions are high between the Minotaurs and the New Caledonian Alliance, with war threatening to break out between the two opposing factions.
History of Minotaur in Tales of a Courier
Warning! The following information applies only to its associated side story, Tales of a Courier, and is thus considered non-canon in the Fallout: Equestria universe.
During the War
The coalition of ordered species, C.O.S, was a coalition of allied, intelligent species that wanted to maintain their independence from Equestria. They were primarily based in the Ponave desert and consisted of Griffins, Ponies, Donkeys, Minotaurs, Griffins etc, and had weapons, armor and training suitable for the different races that made up their military.
Modern Day
It is likely the modern day Federation and Resistance factions that fight for control of the Ponave, still include Minotaurs. A ghoulified, pre-war minotaur, driven insane by age, was encountered by Clover and Ace whilst they were underground. The ghoul minotaur was killed by the timely arrival of the Fire Ant, Zippo.
One of the primary characters of the campaign - Tempered Steel - is a Minotaur, and has a major role throughout the story.
Minor Appearances
Edit
Blackjack was attacked by a minotaur after rescuing a group of wastelanders from becoming slaves. The minotaur survived its encounter with Blackjack, albeit injured and trapped. He later appeared at the Society's base of operations.
A ghoulified Minotaur was used by Stable-Tec to guard the way to Stable 17's reactor. The reactor was built at the end of the maze and was easy to repair, but the minotaur was devoted to guarding the reactor which stopped powering the stable. The stable died out, but the Minotaur became a ghoul, still obsessed with protecting the reactor, now guarding the entire stable, whilst spouting off catchphrases, suggesting the ghoul was Iron Will or a minotaur that subscribed to his teachings. Mach encountered this minotaur whilst scouting out Stable 17.
Big Brutus is a cyborg minotaur that is used by the donkey slave master, Grindstone as his personal bodyguard. The cyber-minotaur has been shown accompanying Grindstone on multiple occasions.
A minotaur was used by the slaver general, Lord Zeal, to whip his pack of Timberwolves into a frenzy, before sending them to attack the settlement of Red Light.
Given they are part bull, it can be assumed that minotaurs are herbivores, possibly omnivores. The average minotaur grows to be several feet high, with a set of long, curved horns atop their head. They are notably strong and use a pair of hands to manipulate objects and have a long tail with a tuft of hair on the end. Their legs end with a pair of hooves.
Ad blocker interference detected!
Wikia is a free-to-use site that makes money from advertising. We have a modified experience for viewers using ad blockers

Wikia is not accessible if you've made further modifications. Remove the custom ad blocker rule(s) and the page will load as expected.