Home
Talk

22
1,116pages on
this wiki

It's Fallout:_Equestria. In book form !
The set contains 2 volumes with the complete story. Also
including the Kkat approved chapter 20.5. Grab your
copy now at book.fallout-equestria.com

Order signups are open till May 4th.
Please note that the book printing project
and this wiki are not releated in any way.
| | |
| --- | --- |
| Rivet Turner is a maintenance pony living in Stable 12. One day while working he finds a strange message on a terminal and is thrust into the unforgiving wasteland of Equestria. Read more... - fimfiction.net | |
| | |
| --- | --- |
| | Steele, just another unicorn trying to stay alive in the Mojave, never thought of himself as anything special; he does whatever it takes to survive and could care less if all of Mojave burns in hell. He could never do anything to change to way things were anyway, or could he? War, war never changes. But ponies do. Maybe even those as cold as Steele. Read more... - fimfiction |
Ever Watchful was a typical young bull, eager to see more of the world outside his isolated home. At least, more of it besides the bleak wastelands that surrounded him every day. However, when actions beyond his control sends him in the direction of the city of Tauronto, the other last great city, he must question everything he has assumed about the world and himself as he carves out a new life.
Also, what the hell is this "Crystal Empire" place, anyway? Read more... - fimfiction.net
| | |
| --- | --- |
| | This is a side story to my Fallout Equestria fic, Trigger to Tomorrow. Crossfire, a notorious member of the Skull City Drifter's Guild, is a mare who only cares about caps and her next job. But who was she before that? How did she come to live in Skull City and call the Drifter's Guild home? This story shows this mares origins, focusing on her arrival in the Skull City Wasteland, and the events leading up to her appearance in Trigger to Tomorrow. Read more... - fimfiction |
The following links will take you to Equestria Daily, where you may read Fallout Equestria and its many fan-made side stories.



by Fallingsnow




by Somber

Artwork

All artwork used in the wiki is credited to the artist(s) that created them and attributed in the caption each time the image is used.

If you would like your work removed for whatever reason, please contact one of the wiki admins (Dashite, yamamoto114, John Colt, Tonto)




by Mimezinga




by No-One
Welcome to the
Wiki of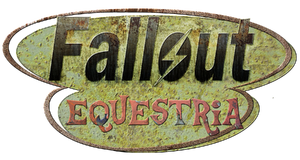 Kkat's cross-over fanfiction,
and the sprawling universe that surrounds it.
Many articles will contain spoilers,
that may
reveal
important plot events
from the story.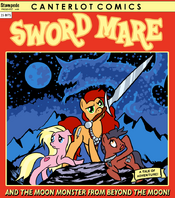 Sword Mares is a comic book in Fallout: Equestria. Littlepip retrieved an issue out of a locked suitcase Calamity found near Arbu.
The cover features a mare, who was "rendered to be ridiculously hot to the point of deformed, wearing equally ridiculous flank-baring armor". She was holding a sword in her muzzle and faced a monster that looked like a cross between a giant yao guai and Nightmare Moon, while a wide-eyed stallion was hiding behind her.

This wiki is always improving, and we can always use more helping hands!

Not sure where to start?

If you are new to wikis, you may want to peruse the Help pages.

Article Guidelines

Detailed formatting guidelines

Adding content

Wiki maintenance

All Activity
Front Page Tools
To edit a section of the home page, please modify the following templates.