Home
Talk

23
1,188pages on
this wiki
| | |
| --- | --- |
| It takes a lot of hard work to be a bounty hunter in the wastelands of Equestria, and no pony know's that quite as well as Percussion Cap. She may not be the best, or work the fastest, or even be the most social towards others, but she always gets the job done. Who needs friends anyway when you have the job to focus on? The job has always been the same for her, track 'em, kill 'em, snip 'em, and return 'em. But sometimes you have to take jobs that you don't feel comfortable with, ones that are just too good to turn down. Sometimes you just have to risk it all for the big payout. And sometimes, you don't end up winning anything at all. Read more... - fimfiction.net | |
Life was never easy in stable 79. But the ponies who lived inside never even thought that there could be another way. It was just life.
The dwellers knew work, and every moment of their lives were devoted to doing just that. If they didn't, everypony could starve.
Everything changed when one little pony defied death itself. With a little help from the other side, he took a chance for freedom. And opened the door.
But some doors are never meant to be opened. Read more... - fimfiction
| | |
| --- | --- |
| Many of us believe that Fate is an uncontrollable force. That the bullet we should keep an eye out for is not the one labeled with our name, but the bullet labeled 'To whom it may concern.' This is the story of an individual who has conquered fate. Who now determines what time is appropriate for him to die.Read more... - fimfiction.net | |
| | |
| --- | --- |
| | Stable 61 turned its back on the war, closing its doors before the megaspells came down. Old Equestria isn't tolerated there, which doesn't bode well for Snowflake, the already-superfluous Jack-of-no-trades. She always seems to vanish into the background, unimportant and unneeded. However she is the one who winds up with an Old Equestrian relic in her hooves. Will she be up to the task? Does she even have a chance in hell? Read more... - fimfiction |
Welcome to the
Wiki of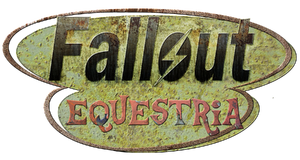 Kkat's cross-over fanfiction,
and the sprawling universe that surrounds it.
Many articles will contain spoilers,
that may
reveal
important plot events
from the story.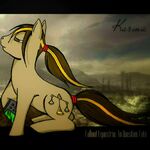 The timeline of FoE: TQF starts slightly before the original FoE. The story's start takes place North of Canterlot, between the Foal Mountains, and nearer to Neighagra Falls.

This wiki is always improving, and we can always use more helping hands!

Not sure where to start?

If you are new to wikis, you may want to peruse the Help pages.

Article Guidelines

Detailed formatting guidelines

Adding content

Wiki maintenance

All Activity
Front Page Tools
To edit a section of the home page, please modify the following templates.