Home
Talk

22
885pages on
this wiki
The definitive source for all things related to
Kkat's cross-over fanfiction, Fallout: Equestria, and the sprawling universe that surrounds it.
This wiki has 885 articles, 672 images, and has been edited 17,547 times since June 20th 2011.


SPOILER WARNING: Due to the encyclopedic nature of this wiki, many articles will contain spoilers that may
reveal important plot events from the story. Some spoilers may be marked with a spoiler tag (example:

this is a spoiler

).
Highlight a spoiler to reveal it. Hover over a spoiler to see its story, chapter, and page without revealing it.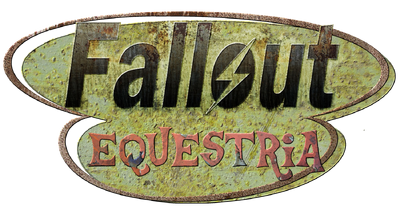 by Kkat
| by Somber | by No-One | by Mimezinga |
| --- | --- | --- |

Read Fallout Equestria!
The following links will take you to Equestria Daily, where you may read Fallout Equestria and its many fan-made side stories.
Artwork
All artwork used in the wiki is credited to the artist(s) that created them and attributed in the caption each time the image is used.
If you would like your work removed for whatever reason, please contact one of the wiki admins (Dashite, yamamoto114)

This wiki is always improving, and we can always use more helping hands!
Not sure where to start?
Article Guidelines
Adding content
Wiki maintenance



Ghouls

Ghouls are creatures that were originally ponies (or zebras), but were corrupted by the necromantic Balefire radiation. During the transformation process, they lose most of their coat and mane, giving them the appearance of a decaying corpse. Despite the deterioration of their bodies, they still possess most of their motor functions.
Ghouls do not require any form of sustenance (although Ditzy Doo enjoys the occasional muffin) and do not age beyond the day they were transformed, thus rendering them immortal. In addition, ghouls are not only immune to radiation, but are actually healed and empowered by it.

Create blog post
Okay guys, I notice a lot of new content every time I come back here and often I have to fix little things. So to make my life and the lives of you and editors easier, I thought I would give you some explanations.




1

Name of the page

2

Adding info from other stories

3

Appearances in Other Stories

3.1

Rangers of Wintertrot

4

Adding Categories




Okay so this bit is important, characters, items, weapons etc belon…


Read more >

I want to make it absolutely clear that Twilight Sparkle is a unicorn in the Fallout: Equestria official canon. Alicorn Twilight would contradict the canon of this setting and would make certain key elements of the setting and plot and background, obselete. 

This is the same with Trixie, who never found the Alicorn Amulet in the main FOE canon and why information relating to the amulet and The Mag…

Read more >

thank you Tonto for all the work you've put into the wiki.




dashite




as of now I be increasingly more and more inactive (as if i wasnt already), sorrie! *hugs all*

Read more >
See more >
Front Page Tools
To edit a section of the home page, please modify the following templates.
| | | | |
| --- | --- | --- | --- |
| Header and Footer | Main | Right | Other |