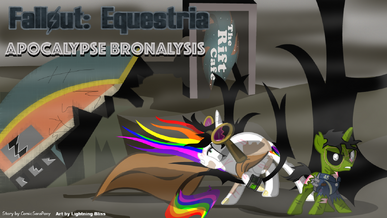 Fallout: Equestria – Apocalypse Bronalysis is an incomplete (cancelled) Fallout: Equestria side story written by ComicSansPony. It only has 1 chapter with 3,534 words. Unlike Comic's other stories it is written from the 3rd person omniscient perspective and follows the Bronalysis OCs of Lightning Bliss and Robin0928 as they trek across the Rift Torn Wasteland.
It is not meant to be canon in anyway to the original FoE since it incorporates Oc mainly found in the Bronalysis community as well as logic and plot elects only fans of that community will understand.
It can be read on either fimfictionor DA.
Synopsis
Edit
On the onset of the apocalypse Lightning Bliss accidentally sent her and her husband 156 years into the future.  Separated in the Equestrian Wasteland–in a section know as The Rift Torn Wasteland–Blissy must now buck up and face the horrors left my the equestrian great war in order to find her lost husband.  Though she will not be alone, long time friend turned wasteland wise ghoul, Robin0928, and his pipbuck bound AI, Whiteboard, show up to be her unlikely guides and companions to this strange new Equestria.
The story is set in a section of the wasteland known as Rift Torn Wasteland. Not much of the region has been explored by Blissy and Robin yet, though it sports many burnt out forrest and marshy landscapes.
Characters
Edit
"Mane" Characters
Edit
Other Characters
Edit
Post Apocalypse

Stable 45A
Stable 45B

Sweetie Bloom - the deceased overmare and only resident of Stable 45B
This story is 100% not canon and meant to be that way.
Ad blocker interference detected!
Wikia is a free-to-use site that makes money from advertising. We have a modified experience for viewers using ad blockers

Wikia is not accessible if you've made further modifications. Remove the custom ad blocker rule(s) and the page will load as expected.